PROJECT
The idea

Each of us pondered by several years the idea of writing the story of 20,000 Italians expelled from Libya in 1970.
Our wishes remained wishes until spring 2008 when, by a coincidence, we exchanged an e-mail message.
Suddenly we started to work together and in a few months we collected our ideas and our thoughts to give life to
" Castelli di sabbia" (Sandcastles) the book you may find below
We were able to do this project together in a few months even though we never met in person, (not yet) but we feel as though we have known each other forever.
How
We decided to not publish this collection of stories and thoughts
(unless someone was crazy enough to pay us for it)
but to make the book available for free to everybody on the web
Why
We have written mainly for ourselves , to recall what happened to us against our will.
Our tales are dedicated to all the children of Tripoli and Libya in general who have been uprooted from their homeland, hoping that they can, now as adults, write additional stories.
Over years we have explained many times what happened and why it happened. This book is also a gift to all those who do not know of this matter now forgotten, but not resolved.
Our memories are a warning to all people who knowingly or negligently have allowed this to happen.
It was allowed to infringe international laws, destroy the cultural identity of an entire community,
humiliate human beings but especially to steal the children's childhood and drop all this into oblivion.
---
If this is not enough, you can read the introduction before you read the book
Introduction
(translation adapted from the original)
We kept those memories in our hearts for almost forty years living as though suspended in a dream beyond real life.
We met on the web with two lines in an e-mail message and immediately came the idea to write the book.
We have opened the drawer of memories and decided to give some of our thoughts.
Maybe that when we were children in Tripoli we also crossed paths without knowing it.
Now that we wrote together, discovered fragments of forgoten life, shared the wonder of us children discovering a new world like the first time that we saw the fog in Italy.
We grew up in different places but we have been attached to the same despicable labels.
We are now proud to be here and proud of our origins, happy to live the present without sacrificing our roots.
This tales collection is composed of two complementary parts,
two different points of view and differen views from those of official chronicles.
The point of view of two children who had to learn quickly to deal a radical change of life.
Perhaps one day we will meet even in person, but basically it is as if we have known each other forever.
Patty and Max
---
"Sandcastles" is available only in original Italian version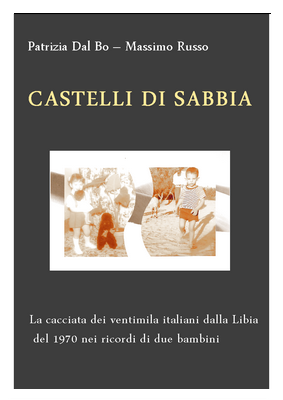 Download "Castelli di Sabbia" in PDF format PDF (300 Kb) August 2009
italian language version only
The file is in PDF format and you can read it with a viewer such as Acrobat Reader © available for free on the web
and generally installed on most computers
.
The file should open automatically in a new window from which you can save it a with a new name.
Depending on the configuration of your browser may be that this is not the case,
in which case you can select the link, open it with right mouse button and save the file to open it later.
For further information please contact us at the e-mail address listed in the INFO page